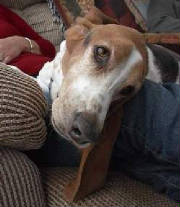 "Yep, I'm a little goofy!"
Say no to these eyes...I dare you!
Chip
I rescued Chip from Las Vegas Basset Rescue, November 3, 2002. He was under weight and infested with parasites and worms. At almost two years old, he still looked like a puppy with ears that were too long. These days he's just a little nut and a real lover!